Digital technology is now integral to our lives. Every industry is using tech to improve processes, save money and create better customer experiences online. The same is true for the international health insurance market, where customers are spread across the world, and where digital technology can make a real difference those needing to access healthcare.
But what technology are providers offering their membership? David Eline, founder of Riviera Expat, explores insurer offers and how they compare.
It's important to note at the start of this piece that the findings presented are based on easily available information and the list of technologies mentioned may not be exhaustive.
We can get a flavour of what's on offer through selected providers from the table below: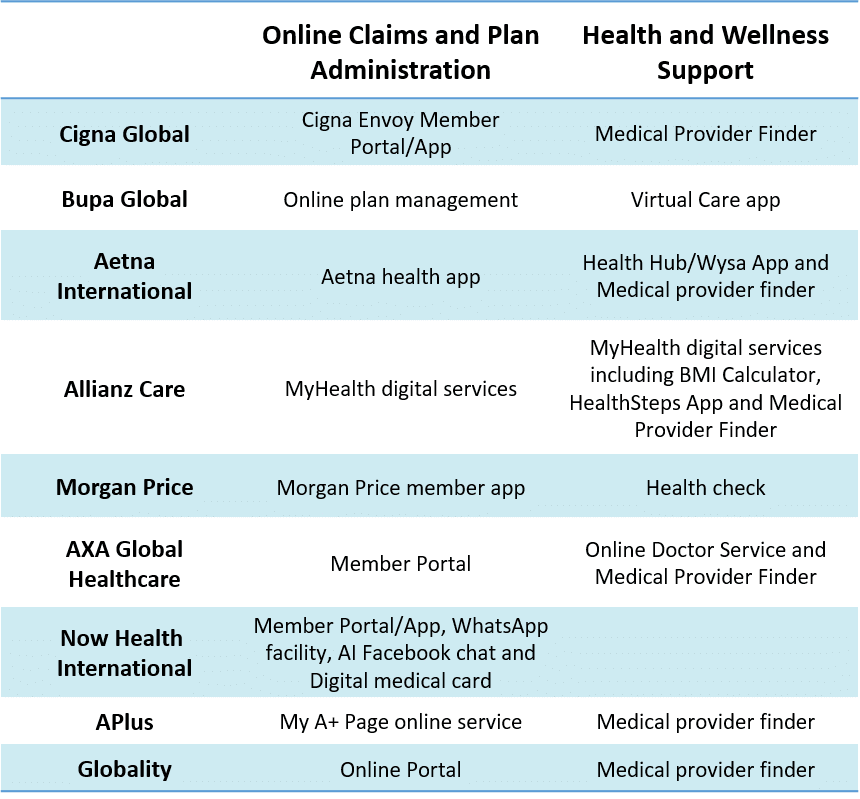 Cigna International
Cigna International members' needs are managed in one place, Cigna Envoy®. This online health resource is available in multiple languages, online or via the mobile app. Their personalised tools enable members to review plans and benefits, track and submit claims and also view and print their ID card.
Members can also search for Health Care Providers in the Cigna network, and access Health and Wellbeing tips for managing existing conditions or investing in a healthier lifestyle, including a health and wellbeing assessment tool.
BUPA Global
BUPA Global provides an online plan management service that allows members to access useful documents, view their claims and perform a series of other administrative tasks online. BUPA's Virtual Care app makes it easier for members to access their global network of doctors via phone or video for medical guidance and consultations. The technology means same-day virtual appointments, available 24/7.
Aetna International
Aetna International's Aetna Health App allows members to submit and track their claims, find policy documents, forms and other healthcare resources, search for doctors and hospitals and perform other tasks, all online.
Their Health Hub is more focused on wellness and offers global gym and fitness class discounts without contract, security alerts and travel advice, the ability to speak to a therapist or counsellor by phone or and app, and provides other well being app offers.
Aetna International also provides telehealth services that facilitates virtual medical consultations, and the Wysa App for more specific support around mental health via a conversational well-being AI chatbot and human coaching.
Allianz Care
The MyHealth portal/app from Allianz gives their members easy and convenient access to their cover and services. Via the portal, claims can be submitted, hospital searches performed and policy documents located. The mobile version provides local emergency numbers, symptom evaluation and medicine translations, and more.
HealthSteps is a health and wellness app from Allianz Care, designed to encourage and support members to live a fitter and healthier life. The app allows users to set personalised fitness goals, select action plan such as healthy eating or better sleep, and track and monitor daily activity.
AXA Global Healthcare
AXA's member portal allows members to submit claims and view benefit statements, ask questions of advisers and more. The portal includes an online provider finder. Via an Online Doctor Service, AXA global members can also speak to a doctor at anytime, wherever they are in the world through an electronic device.
Now Health
Now Health has focused on building digital tools to ease administration and access to care for members. Their member portal and app offers a host of admin functionality and recent innovations such as a digital medical card and WhatsApp contact facility has added to their technology suite.
Morgan Price
The Morgan Price member app allows members to view their coverage details, retrieve policy documentation and quickly access the Morgan Price team in the event of a claim.
A+
The My A+ Page online service gives A+ members access to their plan documentation, download forms, view reimbursements and search for a local hospital or medical consultant.
Globality
Globality provides its members with an online portal where all necessary documentation and accounts can be accessed. Via the portal and app, medical providers can search for and country information accessed.
A variety of online tools are provided by international health insurers. The solutions tend to be in two camps: claims/administration and wellness. All insurers in this sample provide portals for members looking to manage aspects of their plans administration online – and this certainly makes sense in the disparate and time-poor world of today's globally mobile individual.
Digital solutions aimed at improving wellness and encouraging healthy life choices are a more recent phenomenon and it's fair to say that some insurers are more advanced in their offerings than others. Whilst it has historically been a challenge for insurers to utilise online wellness tools, as younger and more digitally-savvy generations come through we may well see a shift in usage patterns.
From an insurers' perspective, of course, it makes sense to support their members to stay healthy and well – a strategy that should lead to lower claims, with the potential to ease the upward pressure on premium rates in the future.
About Us
Riviera-Expat is a specialist insurance broker operating in the International Private Medical Insurance market. We source quality health insurance cover for expatriates around the world every day. Contact us today to find out more about international health insurance and find the right plan for you and your family.